Phillip Khan-Panni    Deborah Swallow

Phillip Khan-Panni
World No.2 in Public Speaking & UK Business Speaker of the Year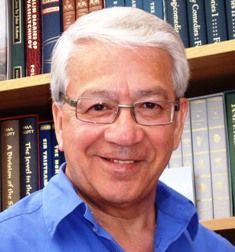 With a powerful message for every individual and every leader of a team, in business and elsewhere, he declares, "Get good at whatever you are doing, but remember that 'good enough' is never enough." He urges self-reliance and the pursuit of excellence, and specialises in helping people to develop effective communication skills and strategies—essential tools for success.
A man who has competed and won at international level, he knows what it takes to equip yourself for the challenges at the highest level. A Founder of the Professional Speakers Association, he has won more public speaking contests than anyone in Europe, and has been UK Public Speaking Champion a record seven times. He is the UK's first and only Silver Medallist in the World Championship of Public Speaking, and is the Inaugural UK Business Speaker of the Year.
As one commentator remarked, he speaks and writes with power and passion about the need to speak with power and passion about anything that matters to you. He has authored seven books on communication, including two on doing business across cultures.
His speaking style is dynamic and entertaining, with amusing and fascinating anecdotes to illustrate his uplifting messages. He specialises in:
Speaking So Others Want to Listen
Effective and Succinct Communication
Diversity & Cross-cultural understanding
Leadership
Creative Direct Marketing
He's great with large groups and also with individuals. He can excite and inspire an audience, and transform a business leader into a powerful presenter. Here is the speech which won him UK Business Speaker of the Year
Speeches
Phillip Khan-Panni's speeches include:
Boring Doesn't Sell
Is the market place discussing you, your products or services? If not, why not? Are your customers taking you for granted? Do they buy some of your offerings, but go elsewhere for some of the things you do. It could be time to redefine your brand, your offerings, your sales strategy. Time to identify what might make you a first choice in your market place.
Let Phillip Khan-Panni re-ignite your fire. In this fast-paced talk he will reveal how the adrenalin bypass has left many businesses loitering in the layby, and challenge you to dare to be different.
2-4-6-8, How do you Communicate? (Keynote)
What is your personal communication style? And do you merely transmit information? This speech will change your approach to verbal communication and inspire you to make a difference every time you stand to speak in public.
This is about public speaking from the point of view of an international champion. Whether you speak after dinner or from the platform, you'll benefit from the tips and advice you will hear in this programme.
The Voice of Leadership
Churchill said that the difference between Leadership anad mere Management is communication. It's about the way you put your point across, and about the way you sound. In this fast-paced talk, Phillip examines the speeches of some famous leaders, illustrates what made them the people to follow, and shines his light along the path to more effective leadership. It's a 'must have' for anyone in a senior role.
How to be a truly Memorable Speaker
You know your stuff thoroughly … you've got your slides ready … you've practised 100 times. But will they still respect you in the morning?!
Making a speech is easy—anyone can do it. But if your aim is to make an impact, to create change, to be remembered … you'll want to do it differently. And very much better.
Only a small percentage of speakers are truly memorable, but many more could be, if only they knew how. As an established speaker, you know your subject, you know how to put it across—now add that vital third dimension: platform dynamics.
Communicating Across Cultures
Doing business in another country is much more than flying out, staying at a posh hotel and eating foreign food. You need patience, preparation and the insights you will gain from this compelling speech, from a man who has worked in a dozen countries and brought cultural understanding to many.
This speech is just as relevant for business leaders at home, because their customers and their staff are already multi-cultural. It will open your minds to the pitfalls that could lie in your path, and guide you to a greater understanding of differences in language, reasoning processes, and attitudes.
Deborah Swallow
In Business there is no Magic, just the Magician
Dr. Deborah Swallow DBA, M.Sc (Managment and Business Development), ACPA, FIMgt, MCIM, NLP Licensed Business Practioner
Speaker, Conference Chair, Seminar Leader

Dr. Deborah Swallow is the magician who makes magic for corporations and institutions. She addresses international conferences on the impact of globalisation on businesses worldwide. She is the rare entrepreneur who has the ability to connect with and move an audience whilst motivating individuals to want to achieve and learn more—about themselves and their organisations. She is known as a speaker who motivates AND gets results . She can deliver her topics either as keynote presentations or as interactive whole- or part-day programmes.
Deborah doesn't just fill a Speaker slot. Her presentations help companies of all sizes move towards their goals through creative, interactive and high-content presentations designed for long-term and sustained results. She helps individuals achieve better performance through a rare combination of fact, insight and practical advice that delegates can apply immediately for improved results.
An inspirational speaker, her passion for great people performance has been learned the hard way. Deborah?s talks are brought to life with true life stories of success and failure—designed and delivered to make any listener realise that they too can achieve their goals. She empowers people to realise that motivation is something they have to do for themselves, whether they are business owners, salaried staff or self-employed.
Topics
Deborah Swallow never delivers a set piece; each presentation is developed and customised to suit your specific requirements. The draft outline will be submitted to you in advance so you can be sure that your audience gets the messages that you want them to hear.
Here are the key areas of Deborah's expertise:
Warp-Speed Change: The Challenge to Business Leadership
The half-life of change has now collapsed.
70,000 businesses will disappear in the next 5 years because of ineffective leadership
Financial Times, 2003
What's going on? Why is the pace of change becoming "instant"? How do CEOs understand this pace of change? More importantly, how do they lead so others will follow? What principles, wisdom, and processes do they employ to confront this era and prosper?
Knowledge Management: Unifying Knowledge and Action
With the increasingly complex problems that global organisations face every day, knowledge assets have become the infrastructure of competitiveness and success. What is knowledge management and why is it more than capture, storage and retrieval systems? How do you refocus on meaning over measures? How can you create core competences? Why is the recognition of cultural differences important? How easy is it to transfer knowledge?
Operating in a Global Environment
Companies need to understand Globalisation and have the capacity to respond to it. How can companies prosper through cultural synergy? How important are national differences and characteristics? How do companies need to adjust when they move beyond their borders? Can just anyone "Go Global"? Do leadership and management styles need to adjust?
Entrepreneurship
Rapid change in many industries has meant the demise of many smaller businesses ? and the process is set to continue. What hope for the small guy, how can David slay Goliath? or at least co-exist? Is reinvention always the key to growth? How can you build business health? Are you managing, or are you leading? ? the magical difference between pushing and pulling. What can major corporates learn from SMEs?
Deborah was keynote speaker at The Women Entrepreneurs Conference in Budapest, The Family-Run Business Conference in Estonia, and The Economic Forum in St. Petersburg. She has also spoken at The Microsoft Conference on Knowledge Management in the UK.
She is co-author of several books on Cross Cultural Communications, and author of Thriving and Surviving as an International Manager and Culture Shock: Finland. Deborah gained her Masters degree in Management and Business Development at business school in Britain. She attended university in France before becoming an interpreter in Spain for Ford Motor Company. She is a qualified accountant, a member of the Chartered Institute of Marketing, and has submitted her Doctorate in Change Management : specialising in Managing Knowledge Across Cultures.
Her Speech Titles are:
Managing the fizz
Your Knowledge Assets can give you the edge
Getting the right performance out of the wrong people
The key secrets of being an entrepreneur
Blood, sweat and cheers
Reversing a corporate collapse with an entrepreneurial touch
Crossl culture: eagle or vulture?
How to soar on the wings of synergy
Speaking Topics:
Business
Management
Change
Future Trends
Globalisation
Knowledge Management
Entrepreneurship
Articles
How To Break Down Barriers To International Communication
Contact us
Please call or email us for details of any course, and for our fees. All our courses can be in-house or open, and online training modules will shortly be available. They will give you access to our training in a low-cost and convenient way.
enquiries: 0845 1659240 (+44 (0)845 1659240)
alternative: 07768 696254 (+44 (0)7768 696254)
email: phillip@pkpcommunicators.com blog: pkpcommunicators.com/blog/
For a dynamic motivational speaker, go to: www.phillipkhan-panni.com