The unique 'Microwave Method' for better results
We have a unique approach to coaching for better business, sharpening communication skills and dealing with people from different cultures. It's called the Microwave Method™, a concept created by Phillip Khan-Panni in the mid '80s.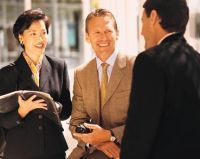 It works like this:  a conventional oven imparts its own heat the the dish being cooked, whereas the microwave oven stimulates the dish, causing it to generate its own heat for the cooking process. Similarly, conventional training methods offer the trainer's model for delegates to adopt. We bring out the latent abilities of those we train, lead them to a new way of seeing things, so that they can be responsible for their own transformation, in their own individual way. One size does not fit all.
One of our main specialities is verbal communication. We can help you to understand how people receive information, the cultural influences on the way they reason, and how to understand and take account of their expectations, instead of simply delivering your prepared message.
We have helped banks to improve investor relations, company directors to motivate and lead their teams to success. We have trained diplomats and civil servants for better governance in emerging nations. We have also coached celebrities one-to-one in developing their keynote and after dinner speeches.
Choose from our wide range of programmes for better business—including presentation skills from entry level to Masterclass, public speaking, business writing, leadership, negotiation skills, internationalisation and getting the most out of business meetings.
Contact us
Please call or email us for details of any course, and for our fees. All our courses can be in-house or open, and online training modules will shortly be available. They will give you access to our training in a low-cost and convenient way.
enquiries: +353 (0)45 943 783
alternative: 07768 696254 (+44 (0)7768 696254)
email: phillip@pkpcommunicators.com blog: PKPWordsmith
For a dynamic motivational speaker, go to: www.phillipkhan-panni.com